G-Private First Class

Posts: 11
Joined: Sun Jan 27, 2008 1:10 pm
Location: Greensburg,Pa.
Here's mine.
Attachments

m38 antenna 001-Optimized.jpg (164.79 KiB) Viewed 3884 times
---
G-Private First Class

Posts: 10
Joined: Sun Mar 04, 2012 6:27 am
Location: Dobbs Ferry, NY
Contact:
Franklin

Don't draw fire it irritates the people around you!
---
G-Sergeant

Posts: 49
Joined: Sat May 17, 2008 9:55 am
Dad's '52 M38....
Before:
After a little cleaning:
- Dan

1953 M38A1 MD54216; 20988792; 40-I-160I B-35
1954 M170 MD-A10513; USMC
1964 M416 1/4 Ton Trailer
---
G-First Lieutenant

Posts: 606
Joined: Tue Nov 18, 2003 6:53 am
Location: S.E. TX
Dan, When I took over the M38 from my Dad it had big 7.00x16LT mud grip tires on it like yours did. The engine was worn out and hardly had enough power in high range to move. I put 6.00x16 NDT's on it which helped it go better in high range.
Tropical Vet 67-68,
2nd Bn, 35th Inf. Reg., 4th I.D. VN
1951 M38 DOD 10/51
1951 M100 DOD 9/51
---
G-Second Lieutenant

Posts: 530
Joined: Fri Aug 12, 2011 7:47 pm
Location: Spring Lake, NC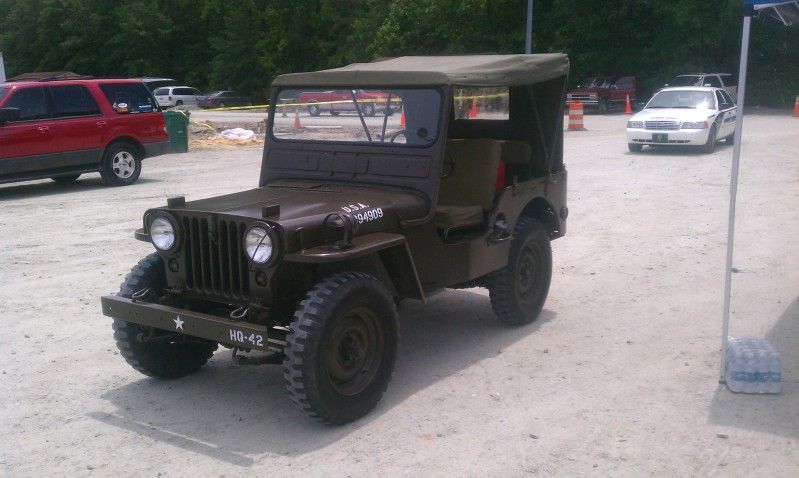 Mine out last weekend. Was doing an escort with some CVMA guys for a bike ride. The cop is an escort, not pulling me over!
11B Oct03-Aug08
91A Aug08-Mar12
90A Mar12-Apr15
Fort Bragg, NC
"Train to Maintain!"
My Trucks:
1951 M38
1977 M880 Dodge (restoration in progress)
2006 Dodge Ram 2500, Quad Cab, Short Bed, Cummins Turbo Diesel
---
---
G-Corporal

Posts: 23
Joined: Fri Jul 02, 2004 6:54 pm
Location: Dartmouth N.S. Canada
Hello All , Jud Goodwin here. This my 1952 CDN W/WN Jeep. Located in Nova Scotia Canada.
Attachments

Juds Jeep
Juds jeep.JPG (89.33 KiB) Viewed 3477 times
1952 CDN M38 W/WN.
1953 M100 Trailer
---
G-Corporal

Posts: 29
Joined: Tue Jun 07, 2011 3:55 pm
Location: New England
Here's my 1952 M38 DOD 4-52
I purchased it in April of 2011. It's currently in restoration.
Truck 1/4 Ton 4x4, M-38 (G-740)
Willy's Model: MC
DOD April 1952
Ser. # 63326
---
G-Staff Sergeant

Posts: 67
Joined: Tue Dec 12, 2006 4:03 pm
Location: Sun City, Arizona
1952 M38 #65578
[attachment=0]IMG_1532.jpg[/attachment][attachment=1]IMG_1531.jpg[/attachment]52 M38 #65578
Attachments

IMG_1532.jpg (11.58 KiB) Viewed 3318 times

IMG_1531.jpg (17.97 KiB) Viewed 3318 times
Regor
1951 M38
Ser. #23945
---
G-Corporal

Posts: 15
Joined: Fri Aug 28, 2009 4:09 pm
Here's mine, found after a long time in a barn. Original tires, plastic headlights, 1951 dated tires, top, side curtains and doors.
Attachments

m384.jpg (139.38 KiB) Viewed 3261 times

m383.jpg (122.82 KiB) Viewed 3261 times

m381.jpg (130.01 KiB) Viewed 3261 times
---
G-Civilian
Posts: 1
Joined: Thu Nov 22, 2012 4:55 am
Hello from France !
That's my m38. i look for informations about the white bison paint on hood. And the number.
It's the first painting.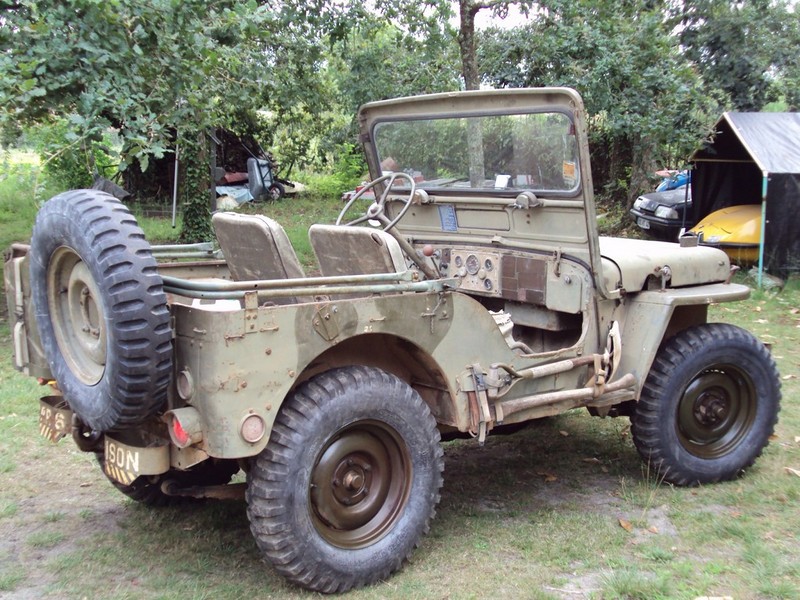 ---
G-Private

Posts: 3
Joined: Tue Mar 15, 2011 1:07 pm
Location: France
Hi folks!
Another M38 from France, named "Karashi" (2/52). My Jeep came back from Pakistan (probably MAP delivery 1965) where it was hardly reworked and repared with asian parts. Most of french M38 were left here by US Army as France left NATO in the mid sixties and US bases were closed and had easier life. Some were reused by the french army, but most were sold to civilians.
Karashi is now undergoing a frame off restoration. Body is full of mastic under the olive drab paint (and the followings layers), so I assume US Army were refreshing their M38s before before sending them to Military Aid Program.
---
G-Sergeant Major

Posts: 161
Joined: Tue Sep 01, 2009 5:30 pm
Location: Lexington NC
another pic of mine and my dads unrestored.
---
Who is online
Users browsing this forum: No registered users and 2 guests