Moderator: mfrance
G-Major

Posts: 818
Joined: Wed Apr 16, 2014 7:20 pm
Location:
Contact:
Is anyone planing to enter a vehicle?

I will be there with my GPW

Brett
---
---
G-Lieutenant General

Posts: 4040
Joined: Sat Mar 04, 2006 9:11 pm
Location: penngrove,ca
---
Gee Old Hand
Posts: 3357
Joined: Mon Mar 24, 2003 1:18 pm
Location: U.S. Left Coast
Marilynn and I watched the parade. Saw this nice halftrack. Who is the owner? It was running on 5 cylinders.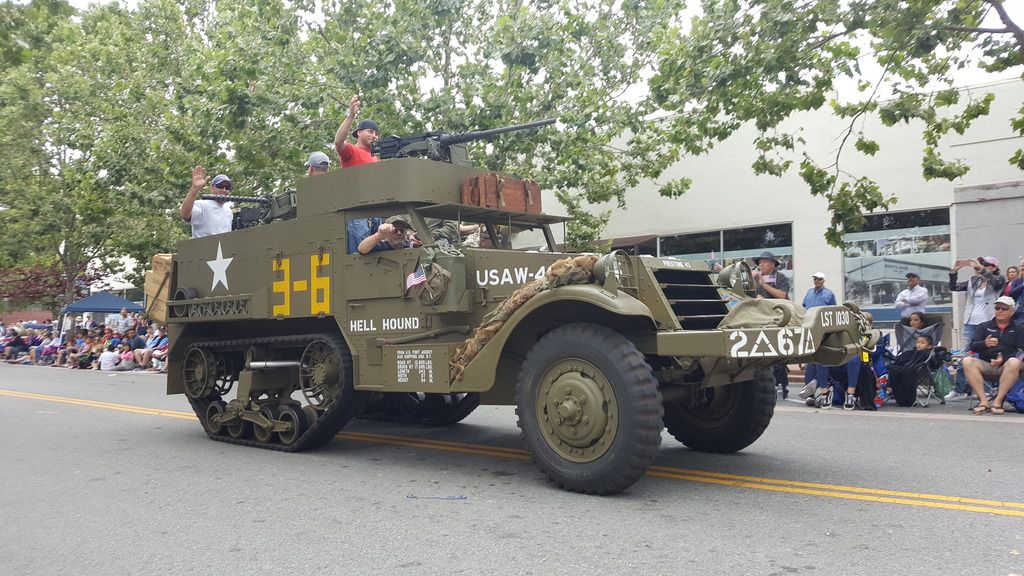 Joe Garbarino sent some tanks and other vehicles from his collection to the Larkspur-Corte Madera parade this year. He usually supports one or the other parade, sometimes both. Not this one, except his M35 truck with USMC paint job was in the Novato parade. I think this is the one he bought from Shirley Laird in Oregon. It has seats in the bed for VIPs.
Art Marthinson from San Rafael ran his WWII jeep in the parade with son and another rider.
The perennial favorite Marin County comedy drill team Nave Patrola made their annual appearance. They portray a WWI Italian army unit that is amazingly coordinated in their actions, such as they are. This includes close order drill (like compressed where backs and stomachs are touching, and falling down as a group. The Nave's are an old Marin family and members have participated in this unit for decades.
Military Vehicle Collectors of California
MVPA 7404
1942 Ford GPW British Special Air Service Regiment Replica
1944 Willys MB
1941 Indian 640
BSA Folding Bicycles
M1942 Command Post Tent
---
G-Lieutenant General

Posts: 4040
Joined: Sat Mar 04, 2006 9:11 pm
Location: penngrove,ca
That's pat kern newly restored m2a1. Beautiful new rig. Made it's madden 1st outing at Petaluma Veterans Parade
---
---
Who is online
Users browsing this forum: No registered users and 4 guests