Now that spring has arrived (although it's still only 34F today!), I need a new thread for my flea market finds!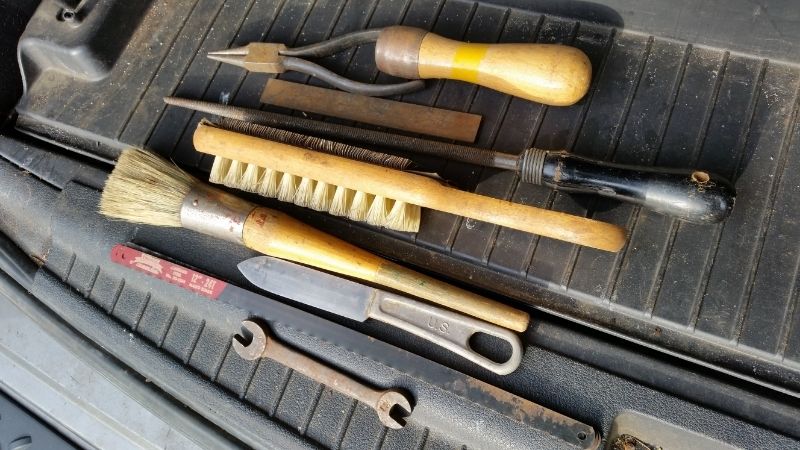 Top to bottom:
- Utica 21-6 Round-Nose pliers (early 41-P-1904)
- Another SKROO-ZON file handle
- Another LS Starrett Steel Rule.. this one is maked "No. 4 GRAD.", which is a variation I have not seen before. Confirms the No. 4 spec referring to the graduations.
- Disston round 8" bastard file, still inside a Disston No. 2 (41-H-1117) file handle!
- Lenox file cleaner – this is the first one I have found with the wire card and the brush. The wires are held in with a tacked on leather pad, like the vintage Nicholsons, unlike the newer cleaners, but I am not sure of the vintage, and Lenox has not been verified as an ORD wartime supplier as far as I know.
- Oval Sash Brush has no brand, but the ferrule is marked "100% BRISTLE VULCANIZED WITH RUBBER"
- WW2 "U.S." marked utility knife (Not a GMTK tool, but these are great knives - carbon steel blades, aluminum handle.)
- Perfect examples of the GMTK hacksaw blades, which specified hard (not flexible), 12" L, 1/2" wide, and 24 teeth per inch. These have the vintage SIMONDS brand marking and I will be looking to see if they're included in the 1942 SIMONDS catalog. Marked No. 20-1224, 12" 24T HARD.
- Last but not least, a FairmounT round 723