Colleagues,
While not 100% complete, I'm pretty darn close, there's always room for improvement, and the missing items are either exotic/negligible, fairly scarce, or I am being highly selective about acquiring them, so I thought I would post the current status of my collection, compliments of Wingnutt Arsenal Photography Department (WA PD).
This has some warts and also some bright spots and I look forward to continuing to work on it here.
Thanks to all the other GMTK collectors out there for your continued collaboration.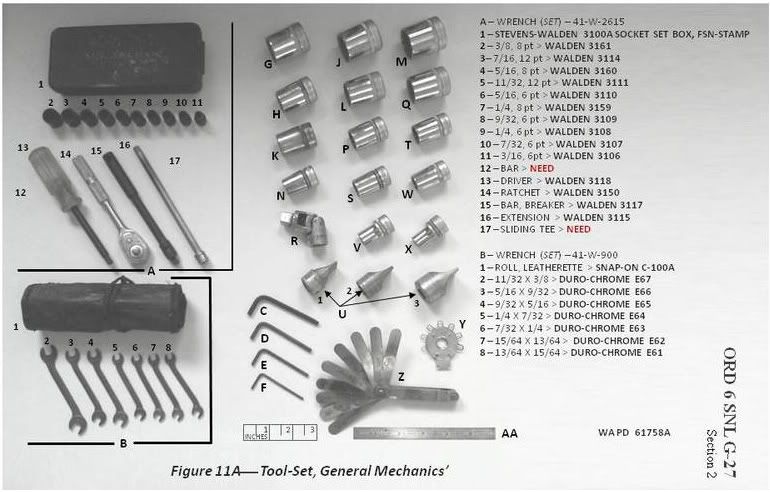 Notes:
A17 – As shown, I need a WALDEN 3116 1/4 Sliding Tee, preferably in Black Oxide finish, but natural steel will be acceptable.
EDIT: Now includes a Williams Sliding Tee placeholder
B1 – Though vintage and nearly identical in appearance, the leatherette roll was not acquired with the tune-up wrenches; it was a SNAP-ON C-100A set screw wrench set, and is marked that way on the inside (the wrenches fit great though – and there're enough sewn pockets for the tiny DURO-CHROME ignition pliers and screwdriver, too!); I need to eventually replace it with a DURO-CHROME.
EDIT: Now includes a DURO-CHROME leatherette roll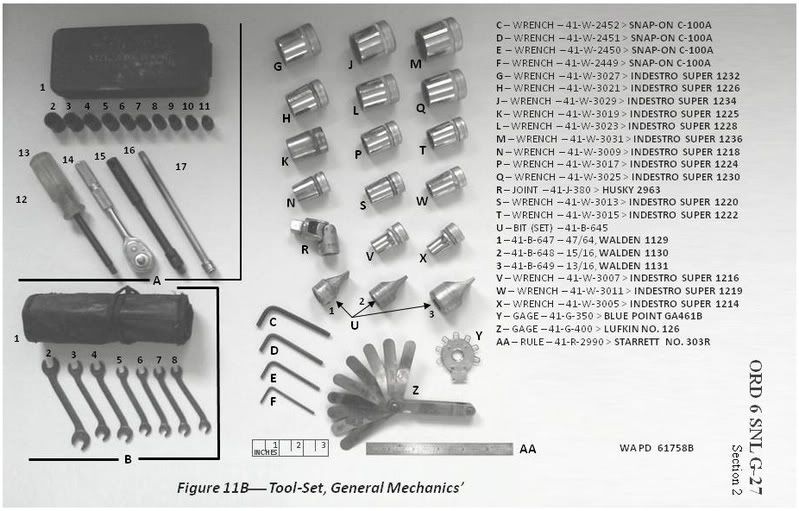 Notes:
AA – The STARRETT steel ruler might be the best, single most valuable specimen I have acquired. It has the second set of graduations on the flip side, and came with a little leather case with a pocket clasp.
G-Q, S-T, V-X – I like that my entire 1/2 square drive socket set is matching, and that there is some consistency with the ignition set, given the inextricable relationship between DURO-CHROME and INDESTRO.
R – Though vintage, I would like to replace the HUSKY universal joint with a set-matching INDESTRO SUPER example.
U – The drag-link bits set (which came from Workdawg!) is not INDESTRO SUPER either, but WALDEN matches my 1/4 sockets and I am very happy with these for now.
(NOTE: The size noted for the 1131 in the figure above has a typo: it should read
1 - 3/16
, NOT 13/16.
Notes:
G - The BLUE POINTS-CHICAGO 050 offset screwdriver is a
spot on
specimen and well worth the looooooong wait and search.
Q – The Champion-DeArment CHANNELLOCKS are dated 1953. I may replace; I may not.
R – Although vintage, I am also looking to replace the unmarked 8" flat-nose pliers.
C – Still looking for a brand-matching No. 2 Cross-Recess. In addition to the Stanley No. 3, I also have a Vlchek No. 3. I am saving that for now for a Dodge WC kit I am assembling, so I might stay with Stanley. (They did supply tools – including No.2 and No. 3 Phillips tips to the military.)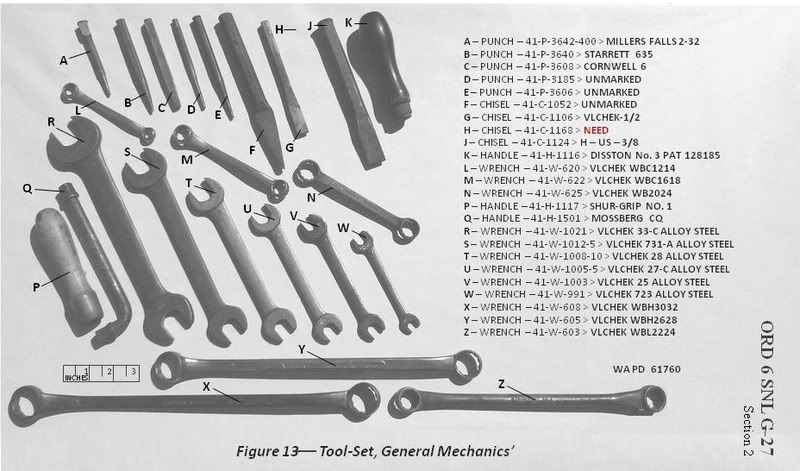 Notes:
L-N, R-W, X-Z - I am happy with all the Vlchek engineers' and box wrenches.
EDIT: I have removed the Vlchek DOEs. Now includes either a Duro-Chrome mixed "G" and "Circle DC" set, or a Bonney "585" series set.
D, E, F, H – Looking to eventually replace the unmarked punches and chisels with marked branded examples, and it would be even nicer if they all matched, but I am in no hurry on that.
P – While it meets the spec, and it's old, I am unable to date the SHUR-GRIP handle, and I have some doubts that it's vintage 40's.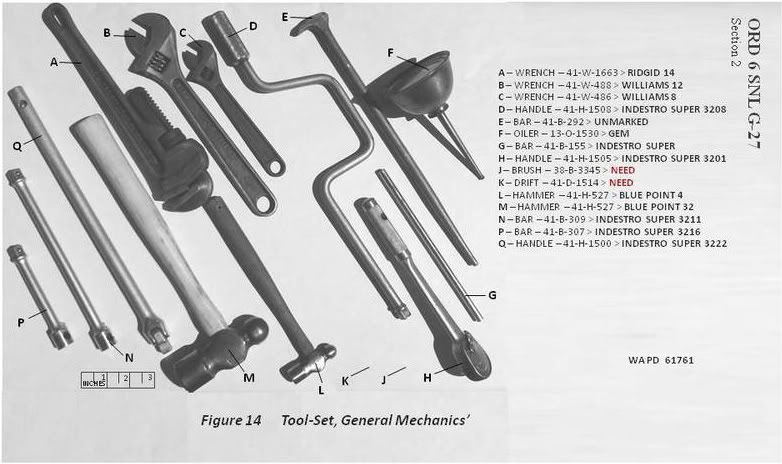 Notes:
A, B-C, L-M – I like that my pipe wrenches, adjustable wrenches, and hammers match each other.
E – Although I am convinced the lady's foot pry bar is vintage, I am looking to eventually replace it with a marked verifiable example.
EDIT: Now includes a pry bar with a logo from a verified (yet unidentified) wartime manufacturer of axes and other striking tools.
K – Still looking for a brass drift that meets all the specs.
EDIT: Now includes a decent drift with chamfered ends and an unidentified number marked on it, but age unknown.
J – No brush.