G-Sergeant First Class

Posts: 89
Joined: Fri Apr 17, 2015 6:11 pm
Location: Maryland
This may be a dumb question, but where is this list and how can I see it?

thanks,
Duane
---
G-Colonel

Posts: 1939
Joined: Wed Sep 01, 2010 1:53 am
Location: North East Hampshire, UK
I think it is on page 3.
Limited access.
1942 August Willys MB
Complete MVMTS 100% sourced in the ETO

Empty vessels make the most noise .......
---
G-Staff Sergeant

Posts: 66
Joined: Sat Mar 03, 2007 2:57 pm
Location: Pennington, NJ
gerrykan

wrote:

↑

Sun Jan 27, 2013 1:43 pm

old arkie

,

Your description sounds like a 1941 galvanized can.

Not super rare, but usually more desirable than the 1942-45 standard cans.

1941 cans had a two lug(ear) lid with the chain riveted directly to the lid without the heavy wire bar seen on later cans.

The 1-inch indentation is thought to be an access hole for galvanizing the inside of the can.

It should be dated on the bottom

5-20-41

.

Does it have a

G

(gasoline) or

W

(water) embossed into the side.

1941 screw lid water cans are rarer than 1941 gasoline cans.
I picked up one of these today. I saw the unusual cap and figured I would buy it and figure out if it was legit later.
On the bottom it is stamped ICC-5, Wheeling. I get those and know what those are, but the line under that, which I assume is the date of manufacture, says 20 51/4 41 (twenty, five and one quarter, fourth one). Why the 5 1/4 (five and one quarter)?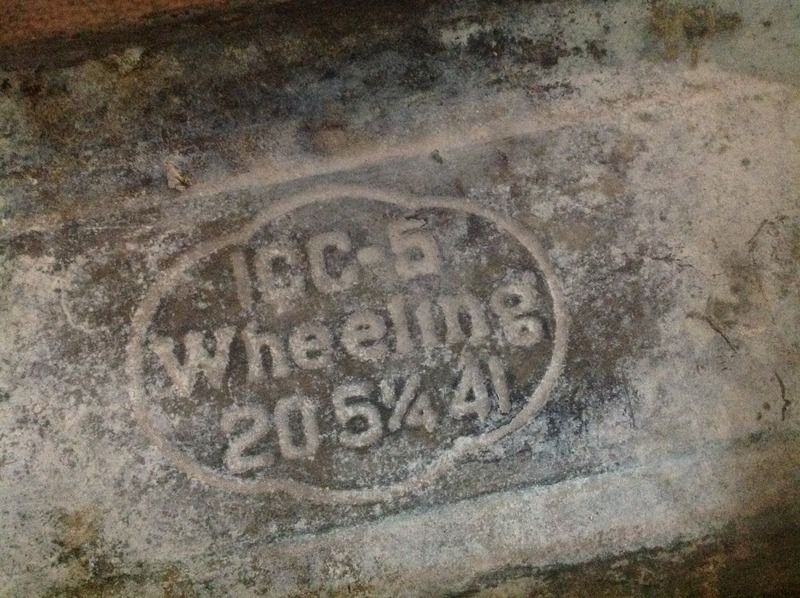 [/URL]
'42 MB, Sn 190341
'42 GPW, 81451 (my Dad's)

I'm the father of a teenage daughter,
all I do is think of new ways to say no.
---
G-General

Posts: 9193
Joined: Fri Apr 07, 2006 4:37 am
Location: Ozark Mountains, USA
Harms,
The 5 1/4(five and one quarter) is near the
actual
capacity of the can.
The German inventors of the jerrycan designed an 'air gap' into the can to help with expansion and contraction caused by temperature differences, to lessen stress on the can.
It also allowed a full can to float if dropped into the drink(water).
ICC
(Interstate Commerce Commission) regulations (
ICC 5
) regarding containers for explosive and dangerous articles shipped by common carriers(railroads, trucking companies, etc.) were to be marked with the nominal
*
capacity of the container.
*
https://www.dictionary.com/browse/nominal
My opinion
is that some USA manufacturers embossed the actual capacity because the civilian cans that they manufactured at the time were marked with the actual capacity of the can.
The
20
in front of the 5-1/4 is the gauge of the steel the can is made from, also determined by the
ICC
.
The
41
is the last 2 digits of the year of manufacture (1941), as you probably already know.
Roy
---
G-Staff Sergeant

Posts: 70
Joined: Sat Apr 13, 2013 2:47 pm
Location: Long Island NY USA
Hi Luca,
I think I may have another manufacturer to add to the list. PSD Co. which might be Point Spring & Drive Shaft Company. They have bin in business since 1926 located in Pittsburgh PA. I contacted them and they have no history of manufacturing Jerry cans. Who Knows, the company may have changed hands through the years and all of the company's history may be lost. Too bad. I enclosed some photos of the can. I hope this helps.
Paul
Attachments

IMG_3725.JPG (79.56 KiB) Viewed 331 times

IMG_3727.JPG (149.39 KiB) Viewed 331 times

IMG_3726.JPG (129.1 KiB) Viewed 331 times
1960 Hotchkiss M201
1951 JDF 1/4 ton
Fleet Automotive Tech ret
Chief Veh Maint Mech Museum of American Armor Old Bethpage NY
---
---
G-General

Posts: 9193
Joined: Fri Apr 07, 2006 4:37 am
Location: Ozark Mountains, USA
Paul,
Unfortunately Luca rarely appears here anymore like some other very knowledgeable folks.
P.S.D. C

o
stands for
P
ittsburgh
S
teel
D
rum
C
ompany
Roy
---
G-Staff Sergeant

Posts: 70
Joined: Sat Apr 13, 2013 2:47 pm
Location: Long Island NY USA
Roy,
Thanks for the correction on the manufacturer. Now I know what I have
Paul
1960 Hotchkiss M201
1951 JDF 1/4 ton
Fleet Automotive Tech ret
Chief Veh Maint Mech Museum of American Armor Old Bethpage NY
---
Who is online
Users browsing this forum: No registered users and 54 guests