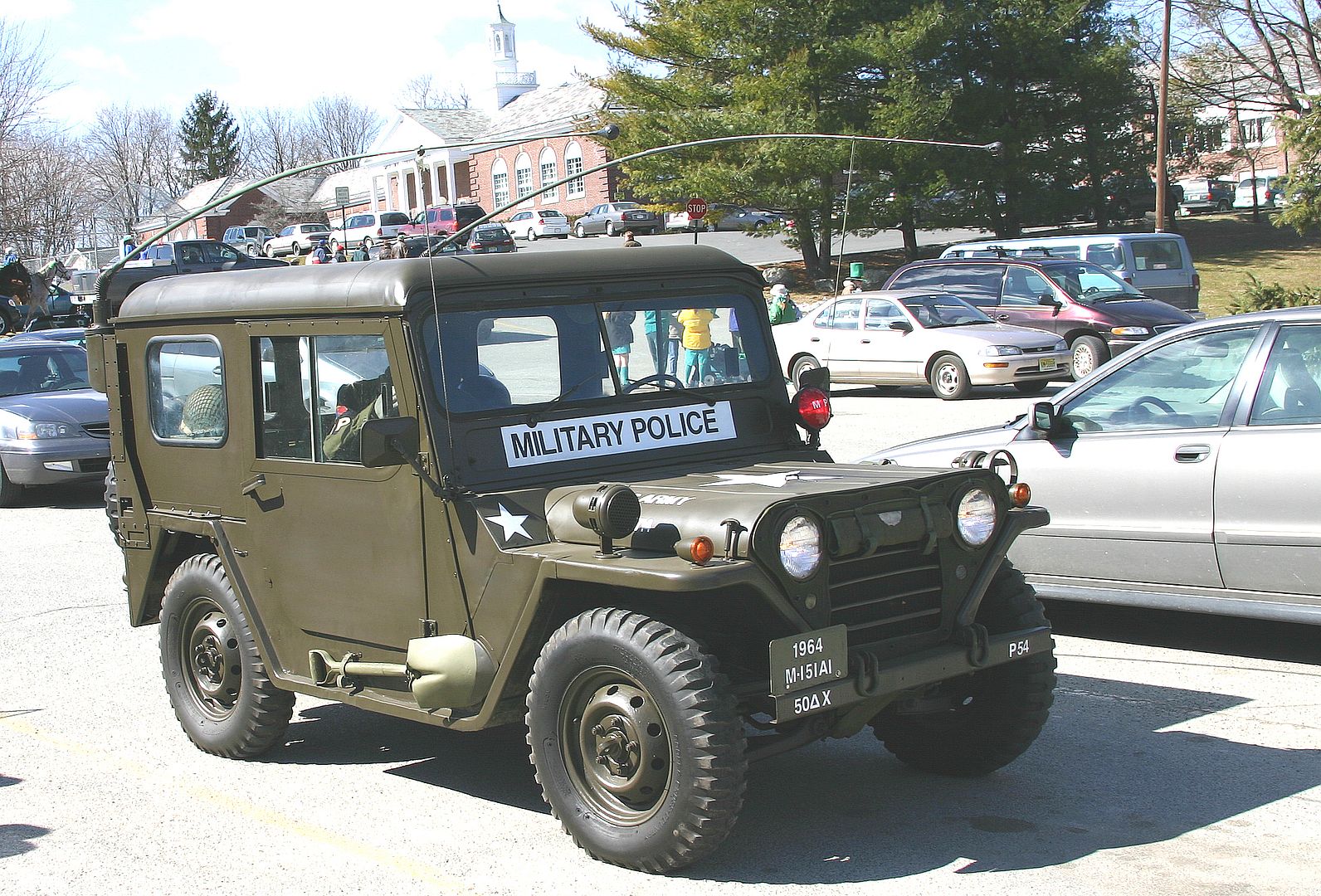 1964 Ford M151A1 with installed hardtop. Titled and registered in New Jersey. Dressed out as a 50th MP Company Jeep. $7500.00
Starts, runs like a deer, stops and shows well. Always garage stored for more than 25 years. It has delivered Santa when the roads were snowed in; it has been in the NYC Veterans Day Parade; it has been in two movies and two TV episodes. It has been driven to Aberdeen from NJ on the East Coast convoy. We were doing 60+ this morning (4-13-19) on the highway. It runs really well.
The downside: After 25 years of believing it was an uncut M151A1 we discovered it was cut and re-welded. It is a good job - it fooled me for 25 years, but up on a lift you can see it. It is kit reinforced on all cross members and the unibody has steel welded along the long members. I can truthfully say it has not been an issue ever.
Comes with just installed NOS Zenith carburetor. Also comes with working heater, MP flashing red light, siren, mounted decontamination set, dash light from an M113 APC, working VRC-46 radio, two antenna mounts and antennas, hand set, original 50th MP Company roundel, shovel, axe, fire extinguisher. It has two nearly new batteries installed. It has a recently replaced in-tank fuel pump. The tires and spare are all OK. It does not leak or drool on the garage floor. Canvas seats all around except the rear seat back which is vinyl - they are all on good+ condition.
It needs a person who is going to drive it and show it more care than I can anymore. I have 4 jeeps and this one suffers from being at the back of the line to be driven and showed. It can use new brake shoes - I'll provide a set of NOS M151 brake shoes with the jeep. One of the rear windows has a couple of cracks. If you come visit it and find anything else that is bothersome, I can probably provide the NOS parts to ease your worries.
I need the room and this old girl needs some TLC. Located in Clinton, NJ 08809
Contact:
dirt@eclipse.net
More pictures are here:
http://smg.photobucket.com/user/doctord ... ary/M151A1