G-Captain

Posts: 754
Joined: Sat Feb 22, 2003 6:17 pm
Location: Fayetteville, Texas
Contact:
I have a A1 but am not sure about the engine. Other than the fuel pump and other bolt on items, how can I tell if I have a A1 or A2 engine? My current engine has a 60 amp alternator on it.
1941 Dodge WC-7 Command Car
1942 Ford GPW
1968 M151-A1
1967 M416
1945 Gemco 1/4 ton trailer
US Army 1979-1984
Houston Police Officer 1984-2016 (Retired)
---
G-Colonel

Posts: 1552
Joined: Fri Jul 18, 2003 12:46 pm
Location: Lil' ol' England
Contact:
Gary....
what does the engine dataplate say? You'll find it riveted to the block below the manifolds.
Ken
Contact address -
muttguru@aol.com
Always wanted - Details and pictures of M416 Trailer data plates & M151 data plates & body-tags for my research. Thanks!
---
LTC, U.S. Army

Posts: 3010
Joined: Mon Dec 16, 2002 12:37 pm
Location: USA, Virginia, Carrollton
Contact:
Failing to find the riveted plate, (it's tucked up under the intake manifold) I think the following may help, but remember the basic engine is virtually identical, it's the accessories (Carb/Gen/Alt/Oil/Vacuum/pulleys) that changed out.
- Most three pulley 'alternator' style setups with internal regulator on the big alternator (it used to be a Generator) are A2 models.
- An orange sticker placed atop the valve cover usually indicates it is EPA approved for the model year (stamped or seen in the corner of that same sticker) be careful if removing paint atop one of these as you may loose that inked data.
- An A2 engine will not have a vacuum pump on the block and associated plumbing for venting said piece into the air cleaner for fording operations.
- An A2 engine can have a charcoal can installed on the firewall as part of the Fuel vapor recovery EPA requirements
- An A2 will have a Zenith Carb.
- An A1 and basic will have a separate regulator mounted on the drivers firewall for the generator (2 pulley system)
- An A1 and basic engine will have a vacuum pump (which could be installed on a replacement older engine)
- An early engine may have a low oil cutoff switch up by the oil filter (not the oil pressure sender unit)
- An A1 and basic engine can have a Holley Carb (if your lucky)
I can't say for sure, but the A2's had a bypass line that went from carb top nut above the fuel line inlet to the firewall to dump excess fuel back into the fuel tank VS shoving it down the carbs needle valve.
It's hard when your not standing beside a pile of engines to look at 'eaches' and point out the differences.
This list may be corrected without any bad feelings on my part.
V/R W Winget
Note the early engine with two electrical sender units below the oil filter, one is a low pressure cutoff switch (removed and blocked off usually) also note the distant regulator on the firewall, and the vacuum pump for windshield wipers where the fuel pump is installed on the A2 models.
Note the A2 Charcoal canister and the fuel return line running from the firewall to carb (or it should be...) for fuel return.
Note the fuel pump (A2) VS Vacuum pump on the A1 engine and orange EPA sticker (A2). At least the fuel return line is hooked in correctly here
Here's an Expensive A2 in Europe overshot with CARC on everything in the engine bay (not while in the service!) Note the fuel return line for A2, charcoal canister, three pulley alternator.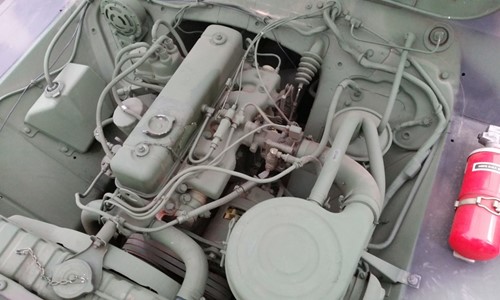 A2 with fuel return line visible atop carb inlet right hand bottom section
US Army Into video showing the early (flattop air cleaner) basic M151.
https://www.youtube.com/watch?v=XIJ_QCuhwGc
Looking for 1918 Standard B 'Liberty' truck parts
---
G-Lieutenant General

Posts: 4936
Joined: Sun Mar 19, 2006 12:04 pm
Location: Pemberton, New Jersey
VR pretty much covered it. There are a couple of small dependencies in his descriptions but nothing worth mentioning. As was said the basic engine under the externals is exactly the same. That said, The A2 used a newer style cylinder head around 73 that had larger bosses where the manifold bolts attach. These heads have hardened exhaust valves for use with unleaded gas. The heads were retrofitted to a lot of the older engines, A1's included.
1964 M151A1
1984 M1008
1967 M416
04/1952 M100
12/1952 M100- Departed
AN/TSQ-114A Trailblazer- Gone
---
G-Captain

Posts: 754
Joined: Sat Feb 22, 2003 6:17 pm
Location: Fayetteville, Texas
Contact:
My data plate is missing. thanks for all the great information
1941 Dodge WC-7 Command Car
1942 Ford GPW
1968 M151-A1
1967 M416
1945 Gemco 1/4 ton trailer
US Army 1979-1984
Houston Police Officer 1984-2016 (Retired)
---
---
LTC, U.S. Army

Posts: 3010
Joined: Mon Dec 16, 2002 12:37 pm
Location: USA, Virginia, Carrollton
Contact:
I have about thirty engines sitting in a row out back (all are likely scrap) and I can look them over for any subtle changes in block, fittings or such.
Could you post a pic or two of your engine from sides and a front shot perhaps?
Might help narrow it down a little better.

V/R W Winget
Looking for 1918 Standard B 'Liberty' truck parts
---
G-Sergeant Major

Posts: 155
Joined: Mon Jul 21, 2008 10:24 am
Location: Magnolia, Texas
Contact:
Gary,

The easiest way I have been able to tell a M151a1 engine form a A2 without checking the data plate while the engine is out of the vehicle is by the color, 24087 for A1 black for A2 and replacement engine, 2. the oil pressure sensor and 3. is the front lifting / radiator mount. See pictures, most early engines I have seen have a welded bracket nut a two piece stamped bracket and most do not swap that part when they swap engines.

Charles
Attachments

A1 engine with the 1 piece welded lifting / radiator mount
MUTT02.jpg (111.5 KiB) Viewed 1616 times

A2 engine with the two piece lifting/ radiator mount
m151-engine.jpg (57.7 KiB) Viewed 1618 times
1943 MB "Puddle Jumper II"
1943 MBT
1968 m274A5
1976 m151a2 "Kermit"
1968 M416
1944 M3A4 Hand Cart
---
Who is online
Users browsing this forum: No registered users and 4 guests