- R.A.E.M.E -
Posts: 13512
Joined: Tue Jul 11, 2006 11:46 am
Location: Year round sunshine on the Gold Coast, SE QLD AU
Haven't seen this on here before but maybe it has!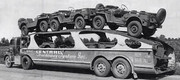 https://i.postimg.cc/TPsyPkbz/Jeep-transport.jpg
John GIBBINS
Member Institute of Automotive Mechanical Engineers [Ret], ASE Master Medium/Heavy Truck & Auto Technician USA -2002 Licensed Motor Mech NSW MVIC 49593 Current 2015
TO DIAGNOSE, TROUBLESHOOT OR FAULT FIND ANY AUTO SYSTEM....
Understand how system parts interact with one another.
GOOD parts
can then be established & the
NOT GOOD
problem/s part/s isolated for repair or replacement.
---
Who is online
Users browsing this forum: No registered users and 5 guests