I reiterate it's worth keeping due to rarity you have one of Two Ford testbeds (at least the engine is Ford, I wonder about the body)
It's a MUTT L141 engine bottom end, You might ask Ford or USTACOM, digging a little FCP is Ford Combustion Process (compared to the Texaco Combustion Process) which was tested at the same time as both they and Ford won the competition which went on since about '65 or so till early '70's.
Bishop, I. N., Simko A, A new concept of stratified charge combustion - The Ford Combustion Process (FCP), SAE Transactions, paper 680041, Vol 77 pg 93-117, 1968.
The design and development of a stratified charge engine incorporating a unique fuel injection system is described. The essential features of the combustion system and fuel systems, the engine characteristics, and the performance of a vehicle fitted with this engine are presented in detail. The engine, running on gasoline, is shown to have a thermal efficiency approaching that of some popular vehicular diesel engines, but without the smoke and noise of a diesel.
https://doi.org/10.4271/680041
Author(s): I. N. Bishop Aladar Simko
Affiliated: Engineering and Research Staff, Ford Motor Co.
Pages: 29 Bad news is it costs $27 from the SAE site...
BUT:
Here's an article:
http://www.jstor.org/stable/24535471?se ... b_contents
If you hit thumbnails it shows several pages, but I think you would have to ask them for a copy of the article (free) to download it.
Also an article about the tests "Exhaust Emissions From a Stratified Charge Ford Combustion Process (FCP) Engine 1970" :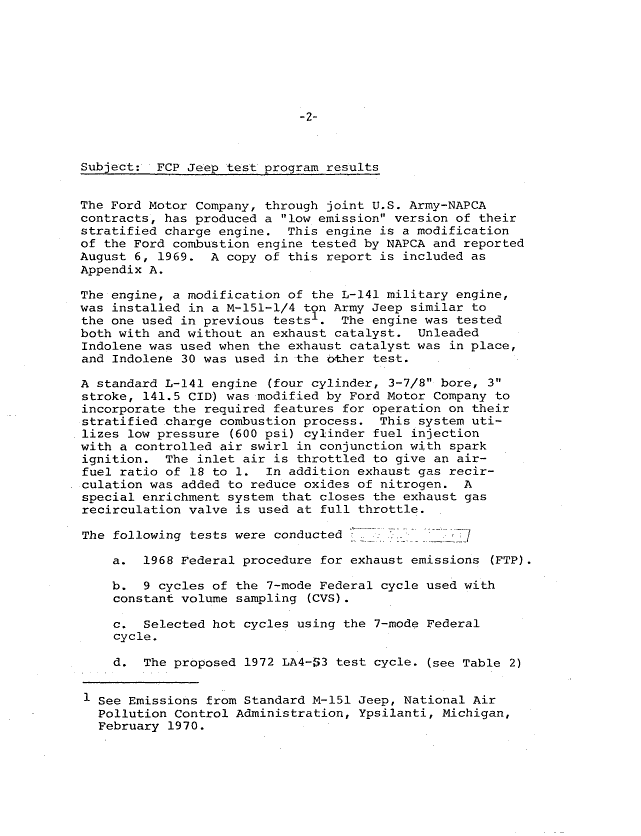 https://nepis.epa.gov/Exe/tiff2png.cgi/ ... 00X60R.TIF
it's on the EPA site:
https://www.epa.gov/
And from page 34 to37 of an Army research pub:
"The FCP features a lowpressure fuel injection system unitized with the ignition distributor.
(See Figure 2.)
Combustion control is achieved by the timing of the injection and the ignition. At light load operation, full stratification must be maintained to
insure ignition of the mixture at the spark plug-by injecting the fuel late, and igniting it before injection is completed.
As the load increases, more fuel dispersion is allowable, and even desirable, to obtain fast and complete combustion. For this condition, injection
timing is advanced as the load increases."
See more page 34:
http://asc.army.mil/docs/pubs/alt/archi ... r_1971.PDF
"FCP. The TACOM program on the Ford Combustion Process engine was initiated in 1967. One single-cylinder and two multicylinder L-141-FCP engines have been built. About 800 hours of test time has been accumulated on the single-cylinder and about 700 hours on the multicylinder engine.
Two M-151-FCP test bed vehicular installations have been made. One was labeled best economy and the other best emissions.
"
Trade it for another MUTT if you don't want to mess with it, it's not in too terrible of shape.
V/R W Winget