Thanks Rick,
I finally figured it out.
I'm in the middle of tearing down my top end and taking a lunch break. Now I have time to post a few questions.
Q1. the exhaust manifold doesn't seem to want to break loose/come out. Its lose and I can shift it left and right and lift it a little in the front.but it wont break loose from the back end at the fire wall. There are a two bolts that broke during the disassembly is that holding it back? Is this common? I don't want to pry it off with the risk of breaking it.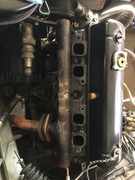 Q2. These water pump hose/fittings coming off the top of the water pump above the large return. It doesn't seem to be doing nothing but looping. It kinda looks odd are these fitting only if I'm running a heater? Can I cap these off?