Wife and I were on the Golden Gate Bridge yesterday and what popped out of the fog and into the photo? Why it's the USS Carl Vinson!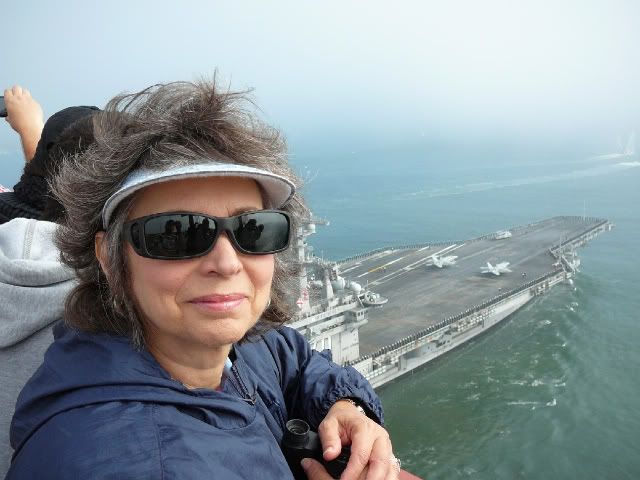 She used to be based here in Alameda, as did Enterprise, Lincoln, Ranger, Midway, Coral Sea, Hancock, and others. Lots of Navy history here. Hornet CV-8 loaded aboard 16 B-25s on April 1, 1942 at Alameda, but I digress...
Speaking of Hornet, interesting paint job on the tails of the Hornet in the middle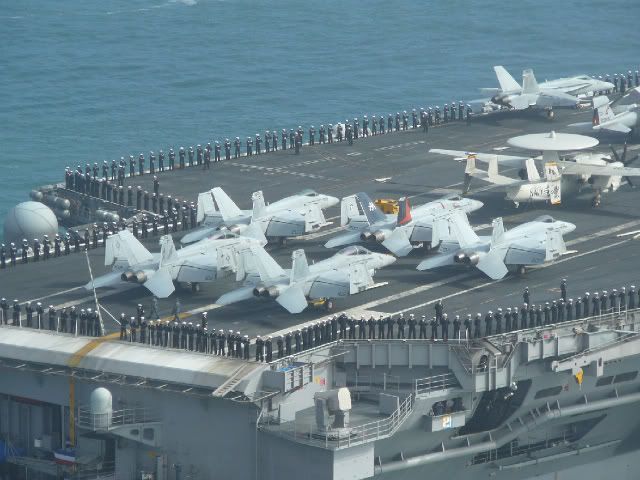 In case anyone can't figure it out - no, the Navy isn't coming back to NAS Alameda - it's Fleet Week 2011! An assortment of Pacific Fleet and Canadian Navy vessels visited San Francisco and gave the guys and gals some liberty
Notice the two Hornets at the ready? Steam was coming from the port catapult. I think the Navy is always looking out for its safety.
A few other U.S. ships are part of this Group. CG-54 USS Antietam for example
The CO goes out of his way to display Old Glory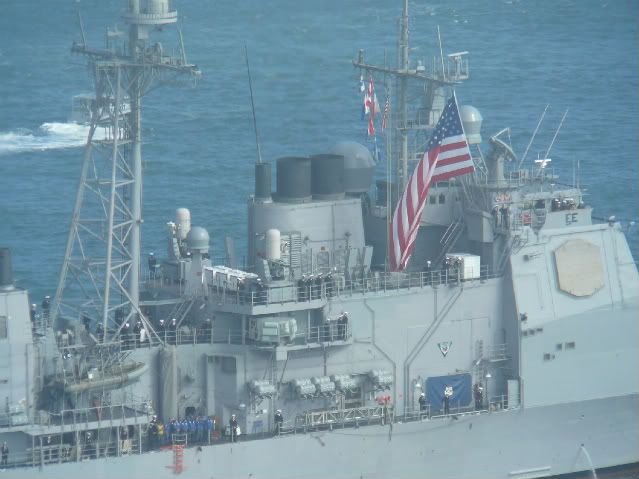 An Arleigh Burke Class destroyer was represented by DDG-69 USS Milius. This CO also likes his flag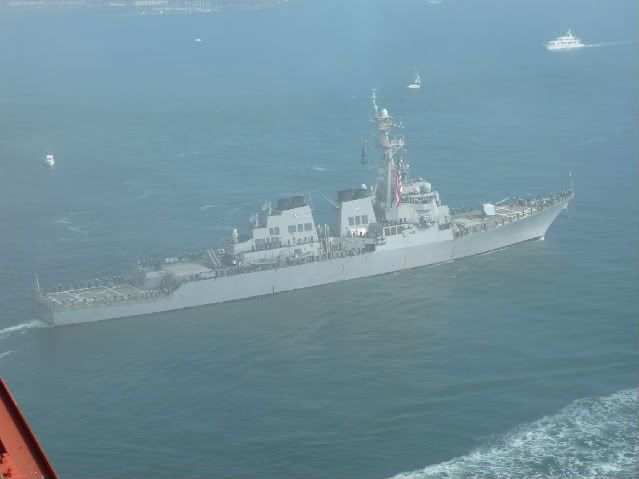 You can't make it out but there is a POW/MIA sign on the aft stack.
T-AO-200 USS Guadalupe gets it's name from the WW2 fleet oiler that was scrapped decades ago. This one is operated by the Maritime Administration
Small but important partner is MCM-14 USS Chief, a mine countermeatures ship aka "minesweeper" named for the Navy's CPOs.
The business end of Chief
The Canadian equivalent of USS Chief, HMCS Saskatoon. This (MM) Maritime Coastal Defense Vessel was joined by sister ships Maniamo and Brandon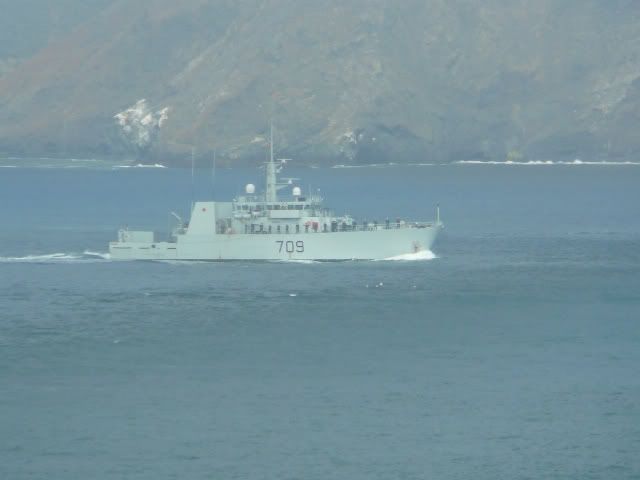 Canadian firepower was provided by an FFH patrol frigate, HMCS Ottawa. Not Aegis-equipped but a good friend to have around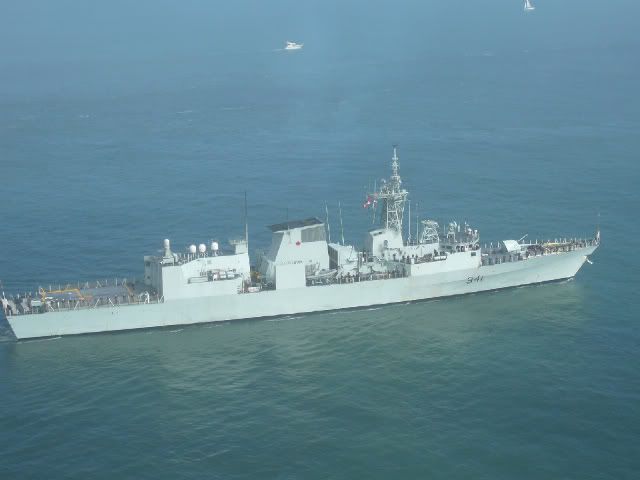 Besides the many local US Coast Guard craft afloat today to maintain order during the Blue Angels airshow, this zoomy new cutter made an appearance. USCG Bertholf is the largest of a new class of ship called National Security Cutter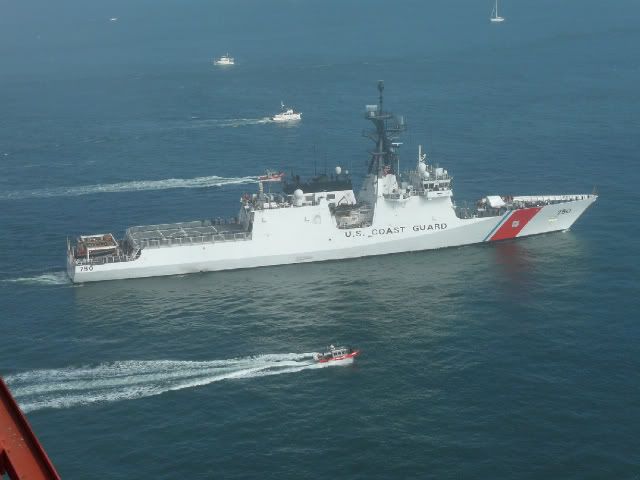 She was flanked by four 25' USCG RB-S Defender (I think) boats. At 45 knots max and fully armed, no bad guys were getting close to Mother Hen today. Don't know how the Navy was protecting theirs, but I guess there were more than a few M2s locked and loaded by Marines.
As usual the fully restored Liberty Ship SS Jeremiah O'Brien made the scene. It is based in San Francisco and cruises several times a year.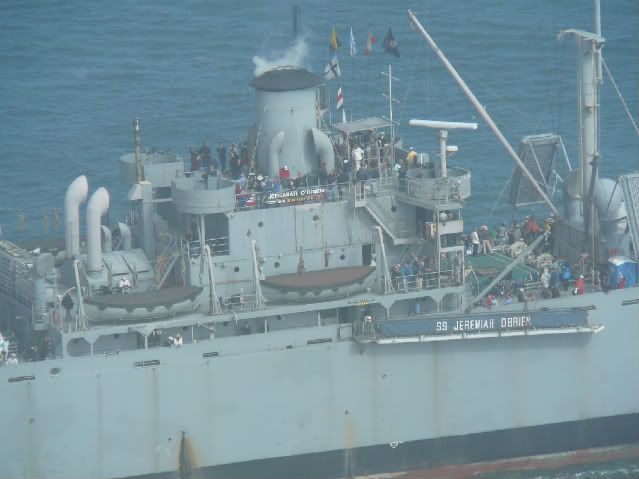 My grandfather skippered one in WW2, then a Victory. After my uncle graduated from Kings Point and shipped out on a Victory as Third Mate, his dad had his signalman flash to any merchant ship he got close to, "Is Kenneth Keith aboard?" Off Guam he finally got a positive reply and ended up getting Ken transferred aboard his ship.
O'Brien is alway so light the prop is partially out of the water. They used to ask some of our MVCC members if they would like to have their trucks winched aboard for a photo opportunity. Most of us saw through that. We wouldn't have gotten them back!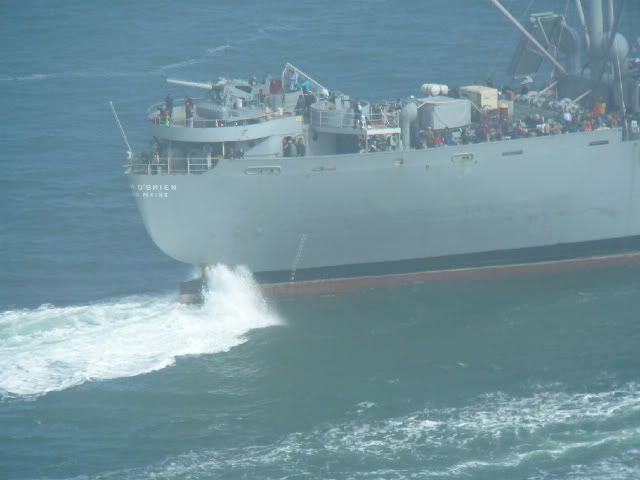 If you have read this far you have gotten your weekly dose of "Navy." Fleet Week in San Francisco is a great event and there is no better venue to watch a Blue Angels airshow.